CONWOOD BOOTH

We also participation this competition which held by PT. Conwood Indonesia, namely Conwood booth design competition was held in 2015 ago. We have promoted the natural minimalist theme of the booth where take on the form of an outdoor garden adorning the booth area.
Name : Conwood Booth Competition
Client : PT. Conwood Indonesia
Address : Jakarta
Scope : Booth Furniture
Site Area : 17 m2
Status : Participant on 2015

---
Powered by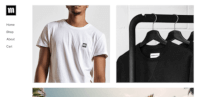 Create your own unique website with customizable templates.